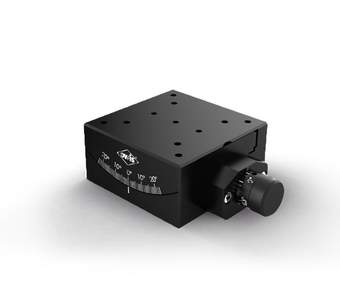 Goniometers GO 65L
OWIS Fine opto-mechanics
Description
The GO 65L goniometers provide an adjustment range of ±20º enabling the swivelling of prisms or other optics around an axis at a certain height. The distance to the mounting surface is 32.5 mm. Because of an optimized design, the height is 32.5 mm, too.
When the GO 65L are mounted directly on the optical table (and not on a SYS 65 slide and / or on a rail), a system height of 65 mm is reached (this corresponds to the standard height of the SYS 65 optical axis).
The GO 65L and the GO 90 can be assembled together to TP 90 theta-phi goniometers with an optical height of 105 mm.
for use with SYS 65 and SYS 90
deformation-resistant aluminium
reflection-poor, black anodized
adjustable dovetail guide
ways of installing
- on optical table
- on slide
Option
- vacuum-prepared versions available
| Art. Nbr. | Type | Title |
| --- | --- | --- |
| 35.065.0540 | GO 65L-W40 | goniometers, adjustment range ± 20° |
| 19.021.0080 | RT 90-80-R | slide SYS 90, 80 mm, with knurled screws |
| 19.022.0080 | RT 90-80-M6 | slide SYS 90, 80 mm, with hexagon socket head cap screws ISO 4762 |