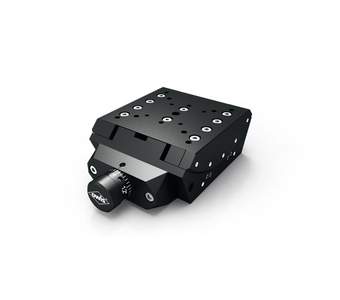 Goniometers GO 65-40-65
OWIS Fine opto-mechanics
Description
The GO 65-40-65 goniometer allows an adjustment range of ± 20° enabling the swivelling of setups around an axis at a certain height. The distance between the mounting surface and the rotation axis of 32,5 mm can be used for prisms, holders or other optics.
The GO 65-40-65 goniometer provides high-precision positioning for high loads. To achieve high accuracy, the GO 65-40-65 is equipped with components made with high precision and a low-backlash worm gear drive.
The low-backlash worm gear drive allows further mountings in the direction using horizontal and vertical travel range, but also upside down applications. The special developed bearing system enables high loads with high resolution.
The top quality black anodized protective coating of the aluminium parts prevents reflections or stray light almost completely.
Motorized version (step motor or DC servo motor), see chapter 'Motorized Positioning Systems'.
for use with SYS 65 and SYS 90
adjustment range ± 20°
designed for industrial application
deformation-resistant aluminium
reflection-poor, black anodized
low-backlash worm gear
specially developed bearing sytem
clamping at rotation knob
ways of installing
- on optical table
- on slide
Option
- vacuum-prepared versions available
| Art. Nbr. | Type | Title |
| --- | --- | --- |
| 35.A65.4000 | GO 65-40-65 | height of rotating axis 65 mm° |
| 19.021.0080 | RT 90-80-R | slide SYS 90, 80 mm, with knurled screws |
| 19.022.0080 | RT 90-80-M6 | slide SYS 90, 80 mm, with hexagon socket head cap screws ISO 4762 |