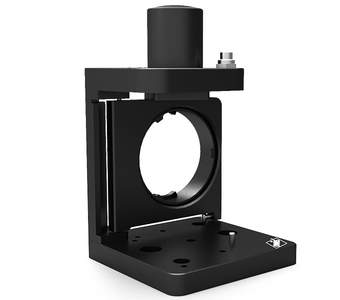 Flip Mirror Holders, motorized KSHM 90
OWIS Fine opto-mechanics
Description
The KSHM 90 flip mirror holders can be applied in all orientations. They are the motorized variant of the manual KSH 90. As with the manual versions, the optics are also pressed against three stops by using two clamping plates. Therefore, transmitting optics up to ø 50 mm / 50.8 mm (2")  can be mounted into the mounts.
A mirror is flipped in a 45° angle into the beam in a switching time of approx. 1.5 s with the NG-E02 control unit. The repeatability is smaller than 100 µrad. With the help of disc springs, optics can be fine adjusted ±0.5° in theta, phi and Z.
With the RT 90-80 slides and the adapter plate ADP-RT90-KSH(M)90, the KSHM 90 can be mounted on
S 90 LL system rails directly into a SYS 90 system. To mount them on STF 15 pins, there is a central M6 thread in the bottom plate.
for use with SYS 90
deformation-resistant aluminium
reflection-poor, black anodized
for all orientations
for optics with ø 50 mm / 50,8 mm (2") and a thickness of 10 mm
mechanical limit switches
DC geared motor
ways of installing
- on slide with adapter plate ADP-RT90-KSH(M)90
- on pin
Optionen
- optics
- vacuum-prepared versions available
Art. Nbr.
Type
Title
46.090.51KN
KSHM 90-RE-MDS

flip mirror holders with DC geared motor, with mechanical limit switches,
for optics with ø 50 mm / 50.8 mm (2"), deflection to the right

46.095.51KN
KSHM 90-LI-MDS

flip mirror holders with DC geared motor, with mechanical limit switches,
for optics with ø 50 mm / 50.8 mm (2"), deflection to the left

19.021.0080
RT 90-80-R

slide SYS 90, 80 mm, with knurled screws

52.669.0012
NG-E02

control unit for flip mirror holders with TTL input, incl. switch, power supply unit and
connecting cable

26.090.0001
ADP-RT90-KSH(M)90

adapter plate to integrate KSH(M) 90 in SYS 90

STF 15

pin 15 - s. product information STF 15