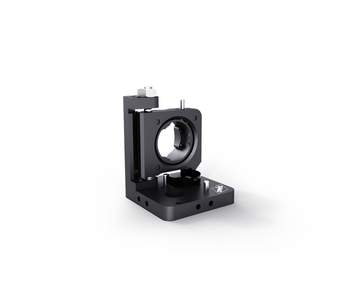 Flip Mirror Holders KSH 25
OWIS Fine opto-mechanics
Description
The KSH 25 flip mirror holders can be applied in all orientations. They are suited for mirrors and transmitting optics - like beam­splitters – with ø 12.5 mm / 12.7 mm (0.5"). To mount the optics in the KSH 25, two clamping plates push these against three stops.
The optics are fixed in the wobble plate and can be fine adjusted ±1° with the help of disc springs. The repeatability of the flip mechanism is smaller than 100 µrad.
With the two slides RT 25-9-ZM, the KSH 25 can be integrated directly on S 25 LL system rails in an existing SYS 25 system. To do this, the two slides are screwed lateral with the flip mirror mount.
All KSH 25 are also available in a motorized version – the KSHM 25.
for use with SYS 25
deformation-resistant aluminium
reflection-poor, black anodized
for all orientations
for optics with ø 12.5 mm / 12.7 mm (0.5") and a thickness of 3 mm
ways of installing
- on two slides RT 25-9-ZM
- on pin
Options
- optics
- vacuum-prepared versions available
| Art. Nbr. | Type | Title |
| --- | --- | --- |
| 26.020.1303 | KSH 25-D13-RE-T | flip mirror holders for optics with ø 12.5 mm / 12.7 mm (0.5"), deflection to the right |
| 26.025.1303 | KSH 25-D13-LI-T | flip mirror holders for optics with ø 12.5 mm / 12.7 mm (0.5"), deflection to the left |
| 12.021.0009 | RT 25-9-ZM | two slides SYS 25, 9 mm, to mount KSH(M) 25 on S 25 LL, with knurled screws |
| 21.115.4325 | STF 15-25-AM4-3 | pin adapter M6-M4 |