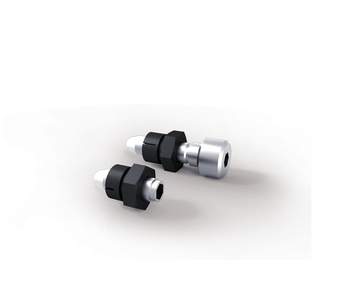 Fine-Thread Screws FGS 15
OWIS Fine opto-mechanics
Description
The OWIS® FGS 15 fine-thread screws have precisely finished spindles. As thrust piece a hardened steel ball is embedded in the spindle. Thus, these screws are particularly used as precise actuators.
The fine-thread screws differ in the spindle pitch of 0.15 mm from the fine-thread screws FGS with 0.25 mm and 0.35 mm pitch, respectively. The travel is 7.5 mm.
Also for the FGS 15 for applications with limited space, the finethread grub screws with hexagon socked FGS 15-6-5-oR were designed. Their travel range is 5 mm.
travel range 5 mm and 7.5 mm, depending on type
spindle pitch 0.15 mm
Option
- vacuum-prepared versions available
| Art. Nbr. | Type | Title |
| --- | --- | --- |
| 91.141.1607 | FGS 15-6-7.5 | fine-thrad screw, 7.5 mm travel, mountin thread M6x0.5 |
| 91.144.1605 | FGS 15-6-5-oR | fine-thread screw, 5 mm travel, mounting thread M6x0.5 (grub screw) |
| 91.141.0001 | KM-FGS 15-4-15 | counter nut M4 x 0.15 |