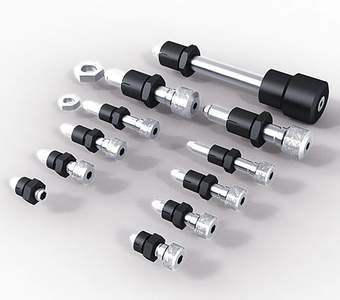 Fine-Thread Screws FGS
OWIS Fine opto-mechanics
Description
OWIS® fine-thread screws have precisely finished spindles. As thrust piece, a hardened steel ball is embedded in the spindle. Thus, these screws are particularly used as precise actuators.
The fine-thread screws differ in the pitch, the fastening thread as well as in the travels between 3 and 35 mm.
For applications with limited space, the fine-thread grub screw with hexagon socked FGS 6-4 was designed. Its travel range is 4 mm.
travel range between 3 mm and 35 mm, depending on type
spindle pitch 0.25 mm or 0.35 mm
Option
- vacuum-prepared versions available
Art. Nbr.
Type
Title
91.142.1603
FGS 6-3

fine-thread screw, 3 mm travel, mounting thread M6 x 0.5

91.142.1607
FGS 6-7.5

fine-thread screw, 7.5 mm travel, mounting thread M6 x 0.5

91.142.1610
FGS 6-10

fine-thread screw, 10 mm travel, mounting thread M6 x 0.5

91.142.1615
FGS 6-15.5

fine-thread screw, 15.5 mm travel, mounting thread M6 x 0.5

91.142.0607
FGS 7-7.5

fine-thread srew, 7.5 mm travel, mounting thead M6

 

91.142.0610
FGS 7-10

fine-thread srew, 10 mm travel, mounting thread M6

91.142.0615
FGS 7-15.5

fine-thread screw, 15.5 mm travel, mounting thread M6

91.163.1917
FGS 9-17

fine-thread screw, 17 mm travel, mounting thread M9 x 0.5

91.163.1935
FGS 9-35-DK

fine-thread screw, 35 mm travel, mounting thread M9 x 0.5

91.163.1017
FGS 10-17

fine-thread screw, 17 mm travel, mounting thread M10

91.163.1035
FGS 10-35-DK

fine-thread screw, 35 mm travel, mounting thread M10

91.143.1607
FGS 6-4-oR

fine-thread screw, 4 mm travel, mounting thread M6 x 0.5 (grub screw)

91.142.0001
KM-4-25

counter nut, M4 x 0.25

91.163.0001
KM-6-35

counter nut M6 x 0.35