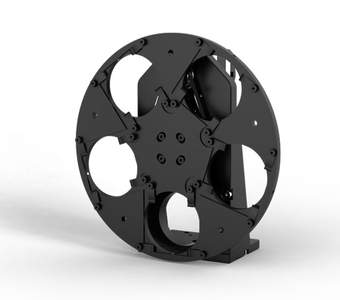 Filter Wheels FRM 65
OWIS Fine opto-mechanics
Description
The FRM 65 motorized filter wheels are suited for automatic changing of five mounted and unmounted optics. Either 50 x 50 mm plates or mounted optics in ø 45 mm mounts or with 50.8 mm (2") can be used.
The base versions have a base plate for fastening. Mounted on the slide RT 65-4-90-M6, the filter wheels can be used in the SYS 65.
In terms of drive, a 2-phase step motor as well as a DC servo motor version is available. As a standard, a contactless Hall-effect reference switch is integrated.
Delivery does not include holder inserts for filters.
for use with SYS 65
deformation-resistant aluminium
reflection-poor, black anodized
2-phase step motor or geared DC servo motor with encoder
Hall-effect reference switch
with OWISid
ways of installing
- on slide RT 65
- on pin
Option
- vacuum-prepared versions available
| Art. Nbr. | Type | Title |
| --- | --- | --- |
| 46.605.456C | FRM 65-5-D45-HSM | filter wheels with step motor and Hall-effect reference switch, for 5 optics ø 45 mm |
| 46.605.516C | FRM 65-5-D51-HSM | filter wheels with step motor and Hall-effect reference switch, for 5 optics ø 50.8 mm (2") |
| 46.605.45GC | FRM 65-5-D45-HiDS | filter wheels with DC servo motor and Hall-effect reference switch, for optics ø 45 mm |
| 46.605.51GC | FRM 65-5-D51-HiDS | filter wheels with DC servo motor and Hall-effect reference switch, for 5 optics ø 50.8 mm (2") |
| 69.914.4020 | G 45-20-D40 | mounts ø 45 x 20 mm, for slack optics ø 40 mm / 38.1 mm (1.5"), with clamping ring |
| 16.024.0090 | RT 65-4-90-M6 | slide RT 65-4, 90 mm, with hexagon socket head cap screws |
| | STF 15 | pin 15 - s. product information STF 15 |