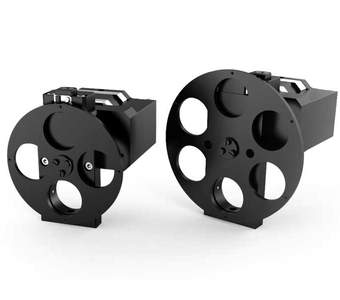 Filter Wheels FRM 40
OWIS Fine opto-mechanics
Description
The FRM 40 motorized filter wheels permit automatic changing of four or six filters. Unmounted filters ø 25 mm / 25.4 mm (1"), or optics in ø 25 mm mounts can be used. They were glued into the filter wheels.
The FRM 40 filter wheels can be mounted on SYS 40 slides. Using the ADP-S65-S40-20 adapter plates, they can be fitted to SYS 65 slides.
In terms of drive, a 2-phase step motor as well as a DC servo motor version is available. As a standard, a contactless Hall-effect reference switch is integrated.
Delivery does not include holder inserts for filters.
for use with SYS 40 or SYS 65
deformation-resistant aluminium
reflection-poor, black anodized
for four or six filters
2-phase step motor or geared DC servo motor with encoder
Hall-effect reference switch
with OWISid
way of installing
- on slide RT 40 oder RT 65 with ADP-S65-S40-20
Option
- vacuum-prepared versions available
Art. Nbr.
Type
Title
46.404.256C
FRM 40-4-D25-HSM

filter wheels with step motor and Hall-effect reference switch, for 4 optics ø 25 mm /
25.4 mm (1")

46.406.256C
FRM 40-6-D25-HSM

filter wheels with step motor and Hall-effect reference switch, for 6 optics ø 25 mm /
25.4 mm (1")

46.404.25GC
FRM 40-4-D25-HiDS

filter wheels with DC servo motor and Hall-effect reference switch, for 4 optics ø 25 mm /
25.4 mm (1")

46.406.25GC
FRM 40-6-D25-HiDS

filter wheels with DC servo motor and Hall-effect reference switch, for 6 optics ø 25 mm /
25.4 mm (1")

14.630.9002
OHU-FR40-D25

holder insert for unmounted optics ø 25 mm / 25.4 mm (1")

14.630.9001
OH-FR40-D25

holder insert for mounted optics ø 25 mm

14.021.0020
RT 40-20-R

slide SYS 40, 20 mm, with knurled screw

16.021.0020
RT 65-20-R

slide SYS 65, 20 mm, wiht knurled screw

16.900.0003
ADP-S65-540-20

adapter plate SYS 65 on SYS 40, 20 mm wide