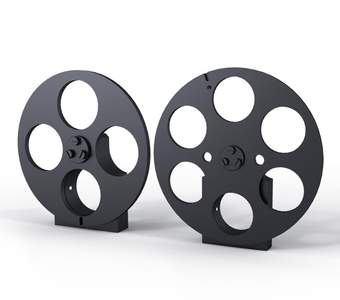 Filter Wheels FR 40
OWIS Fine opto-mechanics
Description
The FR 40 filter wheels allow manual change of four or six filters. It is possible to glue unmounted filters with
ø 25 mm (1") or ø 25 mm mounted optics in holder inserts. The aperture is 23 mm, respectively. They were glued into the filter wheels.
The FR 40 filter wheels can be mounted on SYS 40 slides. Using the ADP-S65-S40-20 adapter plates, they can be fitted to SYS 65 slides. Beside the manual versions, they are available as FRM 40 with a 2-phase step motor or a DC servo motor.
Delivery does not include holder inserts for filters.
Filter wheels with other number of filters on request.
for use with SYS 40 or SYS 65
deformation-resistant aluminium
reflection-poor, black anodized
for four or six filters
way of installing
- on slide RT 40 oder RT 65 with ADP-S65-S40-20
Option
- vacuum-prepared versions available
| Art. Nbr. | Type | Title |
| --- | --- | --- |
| 36.404.2500 | FR 40-4-D25 | filter wheels, manual, for 4 optics ø 25 mm (1") |
| 36.406.2500 | FR 40-6-D25 | filter wheels, manual, for 6 optics ø 25 mm (1") |
| 14.630.9002 | OHU-FR40-D25 | holder insert for unmounted optics ø 25 mm / 25.4 mm (1") |
| 14.630.9001 | OH-FR 40-D25 | holder insert for mounted optics ø 25 mm |
| 14.021.0020 | RT 40-20-R | slide SYS 40, 20 mm, with knurled screw |
| 14.022.0020 | RT 40-20-M3 | slide RT 40, 20 mm, with hexagon socket head cap screw |
| 16.021.0020 | RT 65-20-R | slide SYS 65, 20 mm, with knurled screw |
| 16.022.0020 | RT 65-20-M4 | slide RT 65, 20 mm, with hexagon socket head cap screw |
| 16.900.0003 | ADP-S65-S40-20 | adapter plate SYS 65 on SYS 40, 20 mm width |