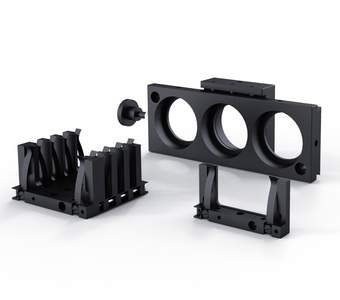 Filter Slides FS 40/Filter Holders FH 65
OWIS Fine opto-mechanics
Description
The filter slides FS 40 are used for manual changing of three mounted filters. A fourths filter can be placed in the main body. The centric mounting of the three positions is guaranteed by a spring preloaded locking. The mounting diameter is 30 mm and can be reduced to 25 mm by using a reduction insert.
The filter holders FH 65 take plain glass, coloured glass plates, and other filter plates with side lengths between 50 mm and 51.4 mm, and a thickness up to 6 mm. They are modularly assemblied, and can be supplied for up to 10 plates. The filter holders can be extended by single-segment steps, or larger assemblies can be dis mounted to single units.
Both, filter slides and filter holders can be mounted on pins STF 15, using the central M6 thread. The filter holders can be set on slides RT 65 using the threads in the 34 mm grid, to integrate them in SYS 65. The filter slides are for use with SYS 40, and when used with the system adapter ADP-S65-S40-20, they can be integrated in the SYS 65, too.
for use with SYS 40 or SYS 65
deformation-resistant aluminium
reflection-poor, black anodized
FH 65 for filters up to 6 mm thick
ways of installing
- on slide RT 40 or RT 65
- on pin
Option
- vacuum-prepared versions available
| Art. Nbr. | Type | Title |
| --- | --- | --- |
| 14.620.3003 | FS 40-3-D30 | filter slide, 3-fold, for mounted ø 30 mm optics |
| 25.265.5001 | FH 65-1-50x50 | filter holder, 1-fold, 50 x 50 mm |
| 25.265.5003 | FH 65-3-50x50 | filter holder, 3-fold, 50 x 50 mm |
| 25.265.5005 | FH 65-5-50x50 | filter holder, 5-fold, 50 x 50 mm |
| 25.265.5010 | FH 65-10-50x50 | filter holder, 10-fold, 50 x 50 mm |
| 14.021.0020 | RT 40-20-R | slide SYS 40, 20 mm, with knurled screw |
| 16.021.0020 | RT 65-20-R | slide RT 65, 20 mm, with knurled screw |
| 16.900.0003 | ADP-S65-S40-20 | adapter plate SYS 65 on SYS 40, 20 mm width |
| 14.711.3025 | EINSR-D30/25 | reduction insert ø 30 mm to ø 25 mm |
| | STF 15 | pin 15 - s. product information STF 15 |