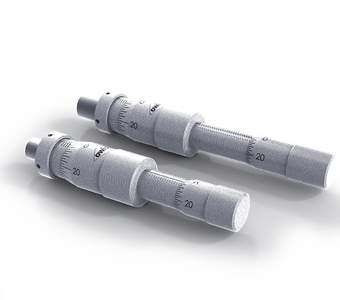 Differential Micrometers MSD
OWIS Fine opto-mechanics
Description
The OWIS® MSD differential micrometers have hardened and precisely ground spindles. The 0.5 µm scaling allows fine positioning adjustment. Thimble and sleeve are matt chrome plated and therefore offer greatest possible contrast to the scale lines. As thrust piece a hardened steel ball is embedded in the spindle. Thus these micrometers are particularly used as highly precise actuators.
The micrometers are available with a fastening thread M9 x 0.5 (15 mm travel) and with the fastening thread M12 x 0.5 (25 mm travel).
The micrometers are fixed after mounting with the corresponding counter nuts.
accuracy according to DIN 863 
measuring drum and bush matt chrome plated
highly sensitive adjustable through large drum diameter
indication range 15 mm and 25 mm, depending on type
spindle pitch 0.025 mm (fine) and 0.25 mm (coarse)
graduation 0.5 µm (fine) resp. 5 µm (coarse)
Option
- vacuum-prepared versions available
| Art. Nbr. | Type | Title |
| --- | --- | --- |
| 91.309.1152 | MSD 9-15 | differential micrometer, 15 mm measuring range, M9 x 0.5 mounting thread |
| 91.312.1252 | MSD 12-25 | differential micrometer, 15 mm measuring range, M12 x 0.5 mounting thread |