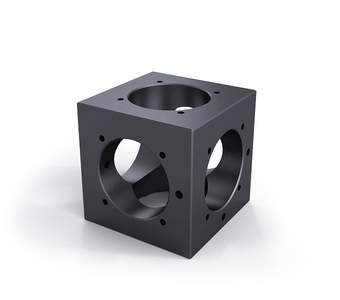 Cubes W 40
OWIS Fine opto-mechanics
Description
W 40 cubes are useful particularly for multidimensional setups.
Adjustable inserts JT 40T for beamsplittings and deflections as well as lenses, filters, drilled apertures etc. can be mounted.
Adapters permit cubes to be combined with products of other manufacturers.
When mounted on system rails S 40 LL with slides RT 40, the height of the optical axis is 40 mm.
for use with SYS 40
deformation-resistant aluminium
reflection-poor, black anodized
wide field of application
extensive accessories
Option
- non-magnetic or vacuum-prepared versions available
| Art. Nbr. | Type | Title |
| --- | --- | --- |
| 14.120.0001 | W 40 | cube for SYS 40 |
| 14.129.0001 | BD-W40 | blank cover for W 40 series cubes |
| 14.129.0002 | VL-W40 | connecting plate for W 40 series cubes |
| 14.129.0003 | VW-W40 | assembly angle for W 40 series cubes |
| 14.190.0004 | RMS 40-OV | RMS adapter flange |
| 14.190.0025 | RMS 40 | RMS optic holder |
| 14.190.0006 | LF 40-D22 | light trap |
| 14.190.0001 | TUB 40-KR | convection tube |
| 14.190.0002 | TUB 40-OT | ocular tubus |
| 14.190.0003 | TUB 40-OF | tube without flange |
| 14.021.0040 | RT-40-40-R | slide SYS 40, 40 mm, with knurled screw |
| 14.022.0040 | RT 40-40-M3 | slide SYS 40, 40 mm, with hexagon socket head cap screw |
| 14.021.0080 | RT 40-80-R | slide SYS 40, 80 mm, with knurled screws |
| 14.022.0080 | RT-40-80-M3 | slide SYS 40, 80 mm, with hexagon socket head cap screw |