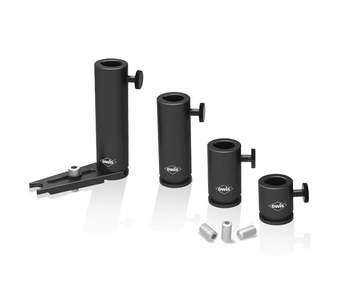 Columns SL 12/16
OWIS Fine opto-mechanics
Description
The columns SL 12/16 with base thread are available in four lengths, so that you can cover extreme differences in height on the one hand while, on the other hand, being able to construct setups with extremely low beam heights.
The columns SL 12/16 with 32.5 mm are SYS 65 compatible.
Maximum flexibility just in one product offer the columns SL 12/16.Grub screws M6 for external thread - to mount directly onto optical tables for example - are part of delivery. Because of the notch in the columns can be mounted with the clamping fork SPG SL-STF beyond of standard grids.
for use with SYS 65 or SYS 90
deformation-resistant aluminium • reflection-poor, black anodized
for supporting pins ø 12 mm to ø 16 mm, e.g. STF 15 pins
ways of installing
- with M6 internal thread to mount onto base plates
- with M6 external thread or clamping fork SPG SL-STF to mount directly on to optical tableS
TECHNICEL INFORMATION SL 12/16
Art. Nbr.
Type
Title
20.126.0032
SL 12/16-32,5-M6

32,5 mm high

20.126.0050
SL 12/16-50-M6

50 mm high

20.126.0075
SL 12/16-75-M6

75 mm high

20.126.0100
SL 12/16-100-M6

100 mm high

20.915.3075
SPG SL-STF

clamping fork for columns SL 12/16 and
pins STF 5

STF 15

pin 15 - s. product information STF 15