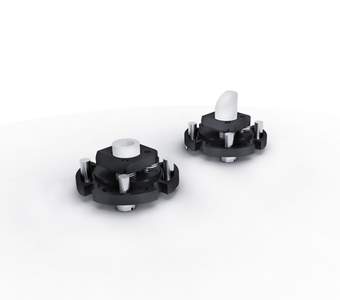 Adjustable Inserts with disc springs JT 25T
OWIS Fine opto-mechanics
Description
The adjustable inserts JT 25T can be mounted in W 25 cubes as well as in holders for mounted optics
OH 25-D16, and build highly stable beam deflectors.
For example Mach-Zehnder or Michelson interferometers can be realized with W 25 cubes.
For a highly precise, shock-resistant and long-term stable adjustment, the disc springs are braced with the base plate by three screws. The optics are aligned in theta and phi with two screws. A further one provides a limited possibility to compensate different substrate thicknesses, or to eliminate reflections.
for use with SYS 25
deformation-resistant aluminium
reflection-poor, black anodized
modular assembly
angular motion at 2 axes
long-term stability
vibration insensitive
designed for industrial application
Option
- non-magnetic or vacuum-prepared versions available
| Art. Nbr. | Type | Title |
| --- | --- | --- |
| 12.214.1010 | JT 25T-STW-O | adjustable inserts with disc springs, for beam splitter cubes or prisms 10 x 10 x 10 mm |
| 12.214.3013 | JT 25T-USZ-O | adjustable inserts with disc springs, for deflection mirrors with max. 12 x 7 x 2 mm |
| 12.120.0001 | W 25 | cubes for SYS 25 |
| 12.110.0016 | OH 25-D16 | holders for mounted optics, with ø 16 mm |