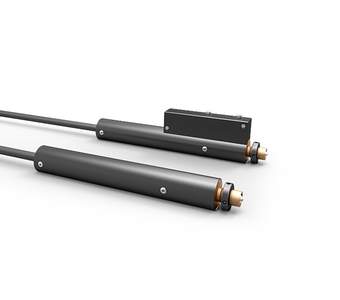 Actuators with non-rotating tip MMS 19
OWIS Fine opto-mechanics
Description
The MMS 19 actuators provide highly precise linear motion for travels up to 25 mm with very high resolution. They consist of a micrometer with non-rotating tip in a minimized compact design and are driven by 2-phase step motors or closed-loop DC servo motors.
Easily mounted via the M9 x 0.5 thread, they enable the later motorization of the manual positioners.
The high actuating force allows a couple of applications.
To ensure a non-destructive work, two limit switches are integrated.
non-rotating tip
travel up to 25 mm
deformation-resistant aluminium
reflection-poor, black anodized
Hall-effect or mechanical limit switches
step motor with gear or DC servo motor with encoder and gear
with OWISid
Option
- vacuum-prepared versions available
Art. Nbr.
Type
Title
49.019.12AK
MMS 19-12-HiSM

actuators with non-rotating tip, 12 mm travel, with step motor and Hall-effect limit switches

 

49.019.12BK
MMS 19-12-MiSM

actuators with non-rotating tip, 12 mm travel, with step motor and mechanical limit switches

49.019.25AK
MMS 19-25-HiSM

actuators with non-rotating tip, 25 mm travel, with step motor and Hall-effect limit switches

49.019.25BK
MMS 19-25-MiSM

actuators with non-rotating tip, 25 mm travel, with step motor and mechanical limit switches

49.019.12GP
MMS 19-12-HiDS

actuators with non-rotating tip, 12 mm travel, with DC servo motor and Hall-effect limit switches

49.019.12WP
MMS 19-12-MiDS

actuators with non-rotating tip, 12 mm travel, with DC servo motor and mechanical limit switches

49.019.25GP
MMS 19-25-HiDS

actuators with non-rotating tip, 25 mm travel, with DC servo motor and Hall-effect limit switches

49.019.25WP
MMS 19-25-MiDS

actuators with non-rotating tip, 25 mm travel, with DC servo motor and mechanical limit switches

49.919.0912
AGB-M9-M12

thread adapter M9 x 0.5 to M12 x 0.5

90.999.0011
SST.F11

grease for spindle, 5 ml in applicator