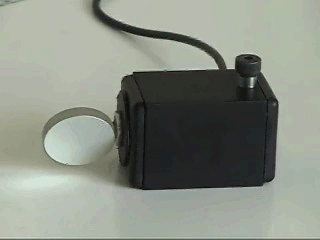 PRG-200 Tilt actuator
Available In Stock
Tilt actuator. Miniature self-contained powered directly from the controller.
Special motorized and electronics
Mass: 250 grams
Dimensions: 1.5x1.5x2 inch
DATASHEET: PRG-200DS.pdf

Description
Max. travel range: 200 degrees.Input signal range: 0 to 5V Built-in resistive absolute encoder. Resolution: Not specified. Minimum increment: ~ 2.5deg Linearity: Not specified. Max. torque: 0.01lbf-inch Gearhead: Yes Cannot be overdriven. Recommended controller: UDA-210 Optics not included.