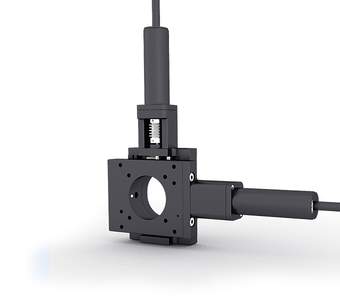 XY Stages KTM 65
OWIS Fine opto-mechanics
Description
The KTM 65 XY stages have a high-precision double-dovetail guide. The thread spindle is ground and preloaded. Therefore, precise travels both in X and Y direction are possible. The aperture of ø 32.5 mm is retained within the entire adjustment range.
The KTM 65 are available with step motors or DC servo motors.
On request, the single axis components VTM 65 are available. They correspond to the motorized VT 65-Z and are, therefore, very flat and also compact.
All aluminium parts have a top quality black anodized protective coating.
deformation-resistant aluminium
reflection-poor, black anodized
low-backlash dovetail guides
ground fine-thread spindle spring loaded
geared step motor or DC geared motor with encoder
Hall-effect limit switches
with OWISid
Options
- single-axis translation stages VT 65 (on request)
- vacuum-prepared versions available
| Art. Nbr. | Type | Title |
| --- | --- | --- |
| 48.362.10AK | KTM 65B-D35-HiSM | XY stages, 8 mm travel and 2-phase step motor |
| 48.362.10GP | KTM 65B-D35-HiDS | XY stages, 8 mm travel and DC servo motor with encoder and gear |
| 16.021.0020 | RT 65-20-R | slide SYS 65, 20 mm, with knurled screw |
| 90.999.0005 | SST.F5 | grease for guides, 5 ml, in applicator |