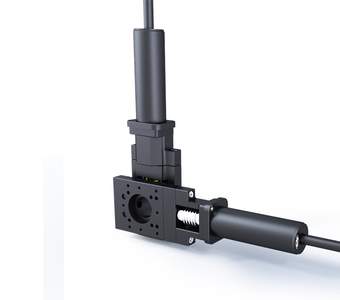 XY Stages KTM 40
OWIS Fine opto-mechanics
Description
The KTM 40 XY stages are equipped with high-precision double-dovetail guides. The fine-thread spindles are grounded and preloaded. Therefore, precise travels, both in X and Y direction are possible. The aperture of ø 15 mm is retained within the entire adjustment range.
The KTM 40 are available with step motors or DC servo motors.
On request the motorized XY-stage KTM 40 are also available in single axis version. They correspond to the motorized MVT 40B-Z and are therefore very flat and also compact.
All aluminium parts have a top quality black anodized protective coating.
for use with SYS 40
deformation-resistant aluminium
reflection-poor, black anodized
low-backlash dovetail guides
ground fine-thread spindle spring loaded
geared step motor or DC geared motor with encoder
with OWISid
Options
- Hall-effect limit switches (reduced travel)
- single axis translation stage VTM 40 (on request)
- vacuum-prepared versions available
| Art. Nbr. | Type | Title |
| --- | --- | --- |
| 48.342.10CK | KTM 40B-D15-iSM | XY stages, 5.5 mm travel and 2-phase step motor |
| 48.342.10ZP | KTM 40B-D15-iDS | XY stages, 5,5 mm travel and DC servo motor with encoder and gear |
| 14.340.2000 | RT 40-16-R-MVT 40 | slide SYS 40, 16 mm, for MVT 40/MKT 40/KTM 40, with knurled screw |
| 14.021.0034 | RT 40-34-R | slide SYS 40, 34 mm, with knurled screw |
| 90.999.0005 | SST.F5 | grease for guides, 5 ml, in applicator |