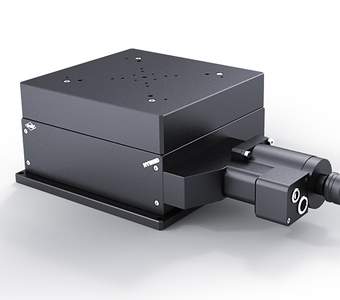 Nano-Hybrid Elevator Stages NHH 200
OWIS Fine opto-mechanics
Description
The NHH nano-hybrid elevator stages are designed for applications that require highly accurate positioning for long travel ranges of up to 30 mm. The spindle driven guiding system allows further mountings in the direction using horizontal travel range as well as upside down applications.
The established mechanism of spindle drive with step motor ensures very high load capacities and moments.
The integration of a piezoelectric actuator and a high-resolution linear measuring system additionally enables the fine positioning for very high accuracy and fine resolution. This makes the elevator stages of the new OWIS positioning generation perfect for use in applications requiring the highest precision for very high loads and long travels, which a common nanopositioning system could not offer. The nano-hybrid elevator stages provide both, properties of a micro positioning system as well as of a nanopositioning system.
Multi-axes combinations can also be realized.
The basic components are made of high strength aluminium. The top quality black anodized protective coating of the aluminium parts prevents reflections or stray light almost completely.
positioning stage in hybrid technology, with 2-phase step motor and piezo actuator
highly precise positioning in the nanometer range
travel 30 mm
preloaded recirculating ball bearing guides
backlash-free ball screw
with integrated linear measuring system
Hall-effect limit switches
with OWISid
| Art. Nbr. | Type | Title |
| --- | --- | --- |
| 72.208.30HR | NHH 200-30-HiSM | nano-hybrid elevator stages with step motor and piezo actuator, 30 mm travel |
| 42.203.0000 | MP-HTM200 | mounting plate 212 x 212 x 10 mm |
| 90.999.0011 | SST.F11 | grease for spindle, 5 ml in applicator |
| 90.999.0002 | SST.F2 | grease for guides, 5 ml, in applicator |